Discover the benefits of the Interior Drywall Installation Course at Aesperon Construction and explore how it can enhance your workforce's skills.
What Will You Learn in the Interior Drywall Installation Course
Unsure about what our Interior Drywall Installation Course entails? Wondering if it's worth investing in this training for your workforce?
This course offers more than just a certification—it's an opportunity to empower your employees, enhancing their skills and adding value to your business. This article will explain the components of this course and how it can help your construction business.
Course Structure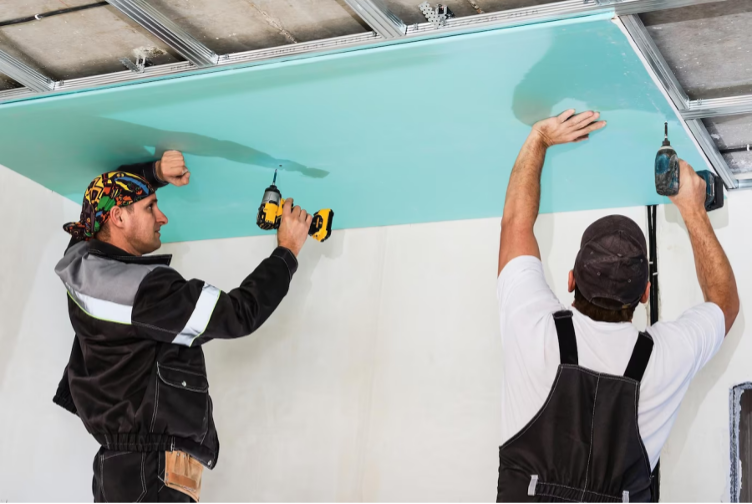 The Interior Drywall Installation Course at Aesperon Construction is designed to be both practical and theory-oriented, offering a comprehensive approach to learning.
The lessons are organized into two primary components: classroom lectures and workshop practicals.
These lectures provide theoretical knowledge essential to understanding the principles of drywall installation. Video illustrations are also incorporated to help visual learners grasp concepts in a more efficient manner.
The practical aspect of the course is conducted in a workshop setting. Here, trainees receive hands-on practice on various aspects of drywall installation, including the setting out of the floor and ceiling tracks and installation of different types of drywall systems. This practical training aims to hone their skills and prepare them for real-world construction scenarios.
Content Covered
General Knowledge of Suspended Ceilings and Drywall Installation
A key part of the course focuses on familiarizing trainees with the basics of suspended ceilings and drywall installation. The objective is to equip workers with a foundational understanding of these systems, setting the stage for more advanced training.
Pre-installation Planning for Interior Drywall Installation
In any construction project, planning is essential. The course teaches workers how to plan for an interior drywall installation effectively.
This includes understanding the project's requirements, setting out tasks, and planning resources. Mastering pre-installation planning will set them on the path to successful project execution.
Stud-Type of Interior Drywall System
The stud-type interior drywall system is widely used in the industry due to its flexibility and durability. The course will provide in-depth instruction on this type of system by focusing on its properties, installation process, and best practices.
Sandwich Panel Type Interior Drywall System
The sandwich panel type interior drywall systems are known for their high performance and ease of installation.
As part of the course, workers will learn about the unique aspects of these systems, from their construction to the methods of installation. This knowledge will enhance their versatility as construction worker and allow them to handle a wider range of tasks on the job.
Course Assessment and Certification
Upon completion of the Interior Drywall Installation Course, trainees will undergo an assessment conducted by the Building and Construction Authority (BCA).
This examination evaluates the practical skills and theoretical knowledge they've gained throughout the course. It serves as a checkpoint to ensure workers are ready to apply these skills in real-world settings.
Benefits of Our Interior Drywall Installation Course
The Interior Drywall Installation Course isn't just about learning new skills. It's a gateway to significant benefits for both workers and their employers.
For workers, the course offers a valuable opportunity to expand their skill set. By learning about various types of drywall systems and gaining practical installation experience, they're not only enhancing their competence but also their versatility.
With the certification obtained through the course, they can leverage this to progress in their career and secure better job opportunities.
For employers, having a workforce trained in drywall installation means increased productivity and efficiency. Plus, the training aligns with the goals of the CoreTrade and Multi-skill schemes, making it easier to comply with these initiatives.
Summary
The Interior Drywall Installation Course presents a compelling solution to upskilling your workforce and enjoying the benefits of employing workers with a Higher-Skilled status.
Don't miss this opportunity to invest in your team's growth and enhance your operations. Join us at Aesperon Construction and let's build a brighter future together.