Here's a peek into Aesperon Construction's latest painting course! We've just completed a class for our most popular SEC(K) Course, Painting.
What Are SEC(K) Courses?
SEC(K), which stands for Skills Evaluation Certificate (Knowledge), is a skills certification framework conducted by the Building and Construction Authority to assess a worker's competency and skill in a particular construction trade.
Workers can apply for SEC(K) at the BCA Academy or at the BCA Approved Training and Testing Centres (ATTCs). Companies can also apply for their workers to take the 2nd SEC(K) at Overseas Test Centres (OTCs).
In the event that the worker has less than 4 years of construction experience in Singapore and only the first SEC/SEC(K), employers are unable to submit a Multi-Skilling application for the applicant as per the requirement.
If you need more information regarding any of the schemes and registration process or find out how you can upgrade your workforce and cut your costs at the same time, call us at 67413131 or email us at hello@aesperon.com.sg for a no-obligation enquiry!
Benefits Of SEC(K)
The SEC(K) scheme allows workers in the construction industry to upskill to an R1 worker, thereby lowering their foreign worker levies. The Direct R1 Scheme was implemented in 2015 to provide another alternative pathway for the industry to upgrade its construction workers.
It allows those who pass the SEC(K) test at a higher skill level and draw a fixed monthly salary of $1,600 or more, to be considered R1 (Higher Skilled) workers; under the Ministry of Manpower Tiered-Levy Scheme.
About SEC(K) Painting Course
What you will benefit from this course:
Lowered levies for construction companies when workers are SEC-K certified
Meet BCA 10% RI requirement for construction companies (direct R1)
Longer working years and higher employability in Singapore for construction workers
COURSE CONTENTS
This course aims to provide trainees with knowledge and skills in painting. They will be trained to recognize different types of paint, techniques of application, and proper handling of painting tools and equipment. More importantly, trainees will be taught to practice good painting habits and worksite safety relating to painting. The course consists of the following topics:
General Knowledge & Safety in Painting Works
Painting Materials and Estimation
Methods of Application
Quality & Defects in Painting
Practical Projects
Trainers of different nationalities (Chinese, Bangladeshi, and Indian) will be present to assist workers during the training.
More information on our painting course can be found here.
Painting Course Reviews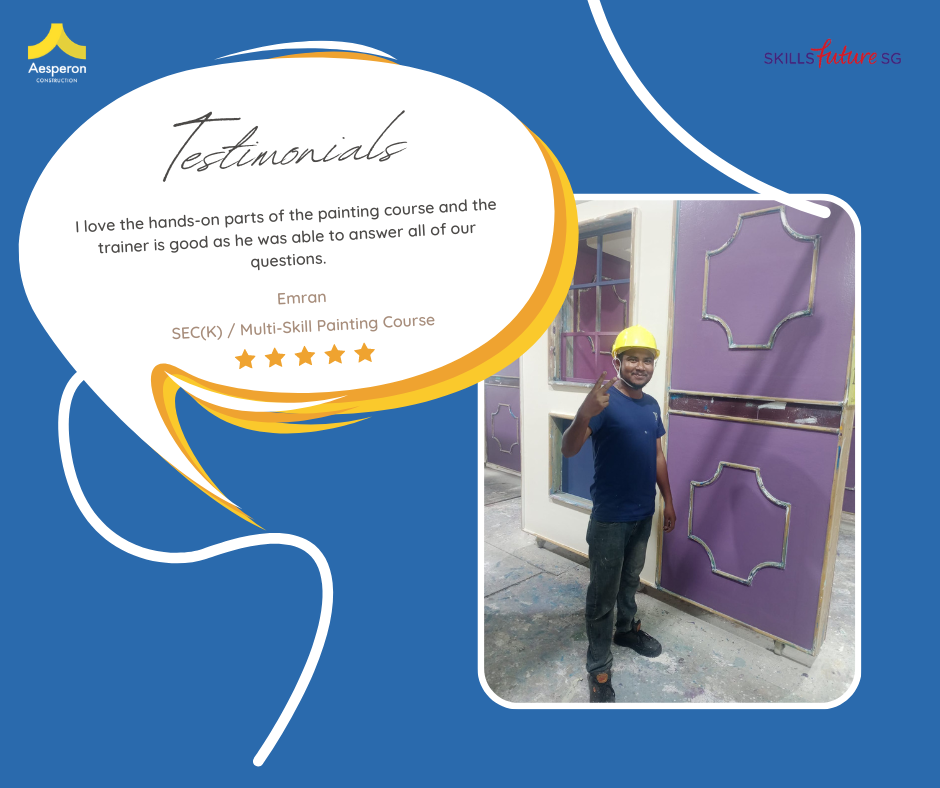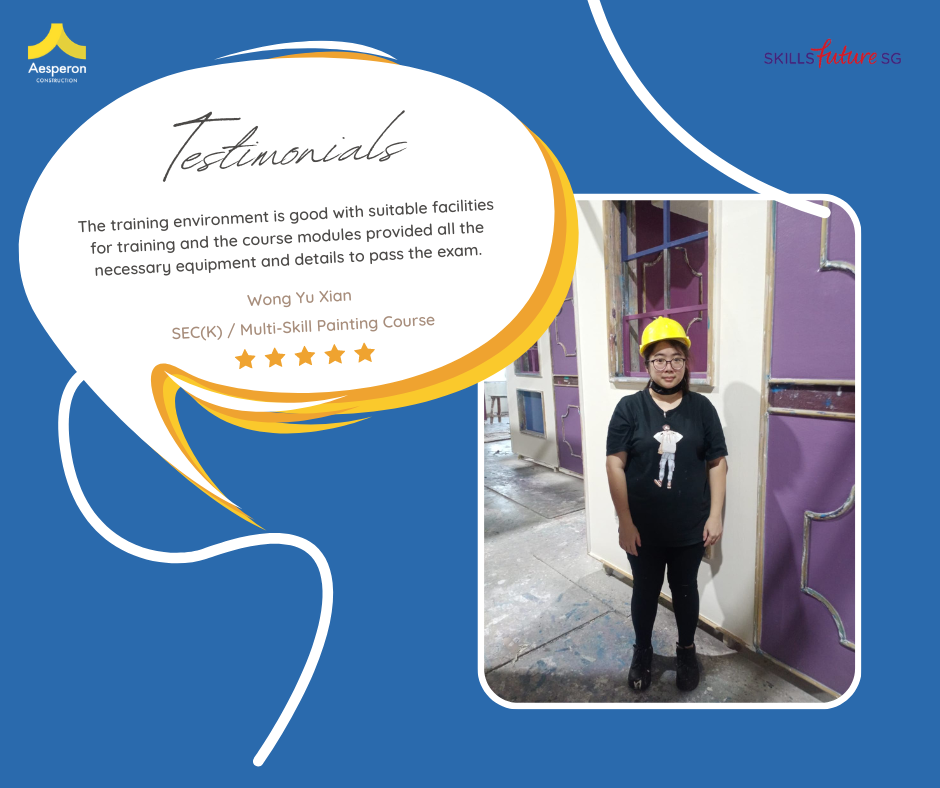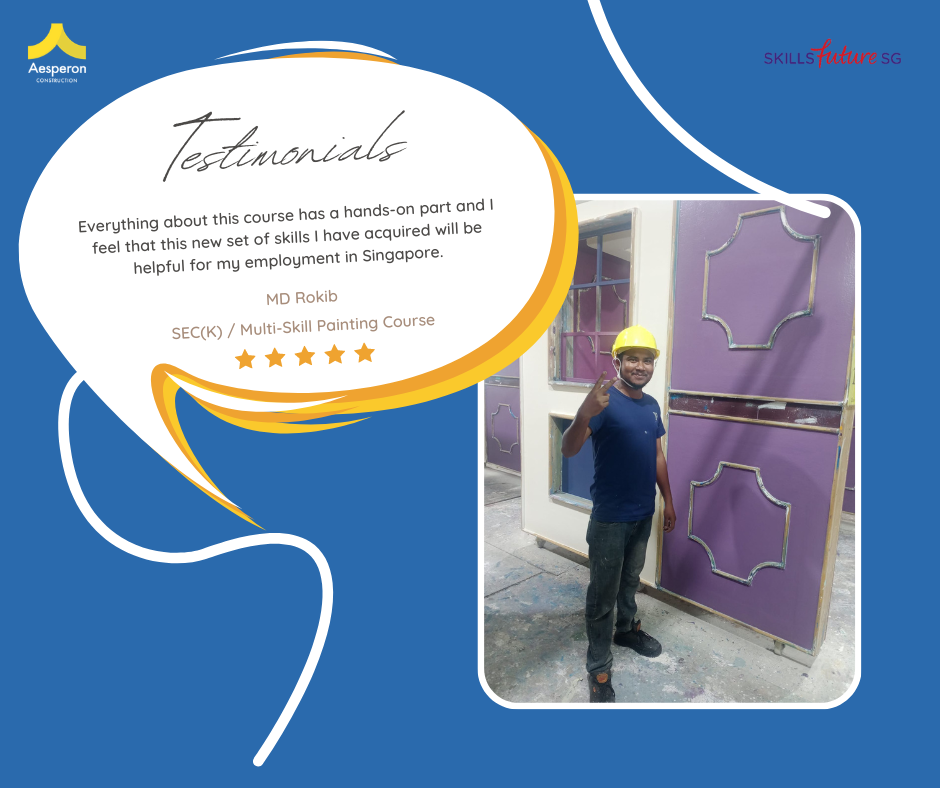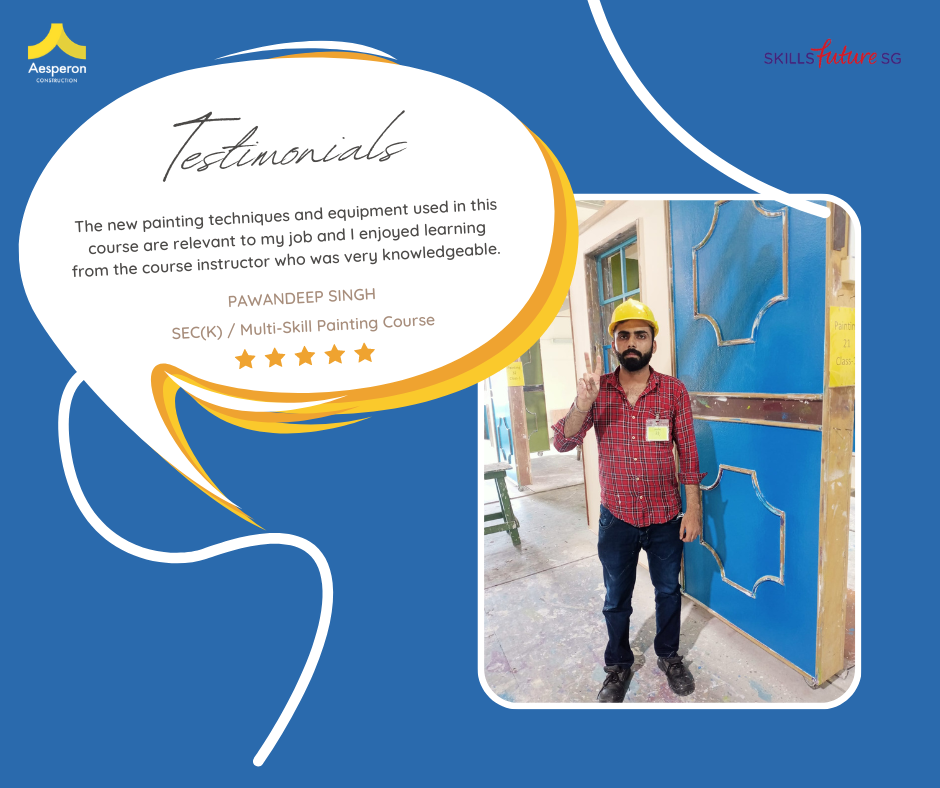 How To Apply For Our Painting Course?
All you have to do is approach us for pre-registration via the following schemes:
*Subjected to approval by MOM.
Entry Requirements:
To check your eligibility for these courses, please check our website here at aesperonconstruction.sg to find out more.
Why choose us?
To start working as a construction worker in Singapore, it is a requirement to possess a skills evaluation certificate.  We have a more than 95% Passing Rate for our certification courses. As we understand that weekdays are mainly the important workdays, many weekend training slots are available in ATTC. Free transportation will be provided as well! (Terms and conditions apply).
If you have any queries, do not hesitate to contact us!