For those planning to apply for construction jobs in Singapore, Aesperon Construction's courses equip you with the required skills and certificates!
Good news: You can find attractive construction jobs in Singapore, considering the upbeat outlook for the country's construction industry which is forecasted to record a CAGR of 2.5% from 2023 to 2027, according to Singapore Construction Industry Databook Series.
However, it also means increasing competitiveness in the job market. Construction courses will be a quick and effective way to help you gain required certificates and skills quickly, then grab the chance!
Types of construction courses in Singapore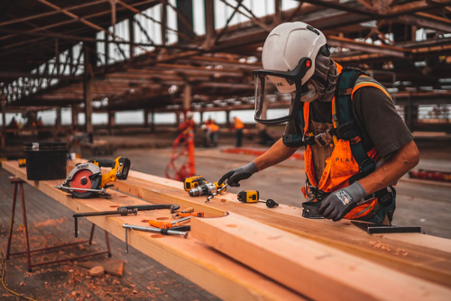 According to Building and Construction Authority (BCA), Singapore, there are different types of courses designated based on your knowledge, skills, experience, and career paths, such as:
Bachelor's Degree
Master's Degree
Diploma Programmes
Certification Courses for Professionals or Specialists
Certification Courses for Supervisors or Technicians
Courses for Technicians and Associate Professionals
Courses for Construction Personnel
Courses for Professionals, Managers & Executives
Design for Manufacturing and Assembly (DfMA)
Facilities Management (FM)
Green Building
Integrated Digital Delivery (IDD), etc.
How much are construction courses in Singapore?
It depends on the types of courses, your current and targeted levels, learning methods, duration, etc. Online courses are as affordable as less than SGD 100 for weeks; meanwhile, diploma courses at institutions can cost over SGD 15,000 for two years.
What are popular courses for construction workers?
Singapore applies three schemes for construction workers, which are:
Learn the differences between the three schemes and find courses for your preferred one.
Which institutions provide courses for the Multi-Skilling scheme, CoreTrade, or SEC(K)?
You can learn at BCA Academy or trusted course providers like Aesperon Construction. The company provides BCA-approved training courses to help equip you with useful knowledge, technical skills, and even soft skills to prepare you for new construction jobs.
You will also receive certificates recognized by the Singaporean Building and Construction Authority (BCA) and the Ministry of Manpower (MOM.) With a certificate, you can expect an extended period of employment and a lower levy rate.
Certified as higher-skilled construction workers, you have a chance to work for 26 years at max.
Since 2009, Aesperon has trained over 30,000 workers in the sector and earned an impressive passing rate for CoreTrade courses of over 95%.
What construction courses are available at Aesperon?
Aesperon has extended more courses to meet the learning requirements of construction personnels and companies. Its top courses include but are not limited to:
SEC(K) Painting Course
Precast Concrete Component Erectio
Steel Reinforcement Work
CET – Reinforced Concrete Work
CET – Tiling, Stone Laying, and Floor Finishing Work
Enhanced Aluminum Formwork
Interior Drywall Installation
Suspended Ceiling Installation (Acoustical)
Suspended Ceiling Installation (Fibrous Plaster)
Replacement and Reinstatement of Safety Barriers Integrated with Windows
Safety of Windows (Certificate of Successful Completion)
Final Thoughts
Have you found your interested construction course? Contact Aesperon to get more details about it!