The construction worker levy in Singapore falls under the PCM sector. The process sector includes plants in the manufacturing of petroleum, petrochemicals, specialty chemicals, and pharmaceutical products.
The production processes of these plants in the process sector involve specialized equipment and machinery. The construction and maintenance of the production units within these plants, which are classified as process construction and maintenance (PCM) works, require niche skills and expertise.
Such works are carried out by PCM contractors. They work with the process plant owners and engineering, procurement, and construction companies to build and maintain the production units of the process plants.
How To Employ Construction Workers In Singapore Under The PCM Sector?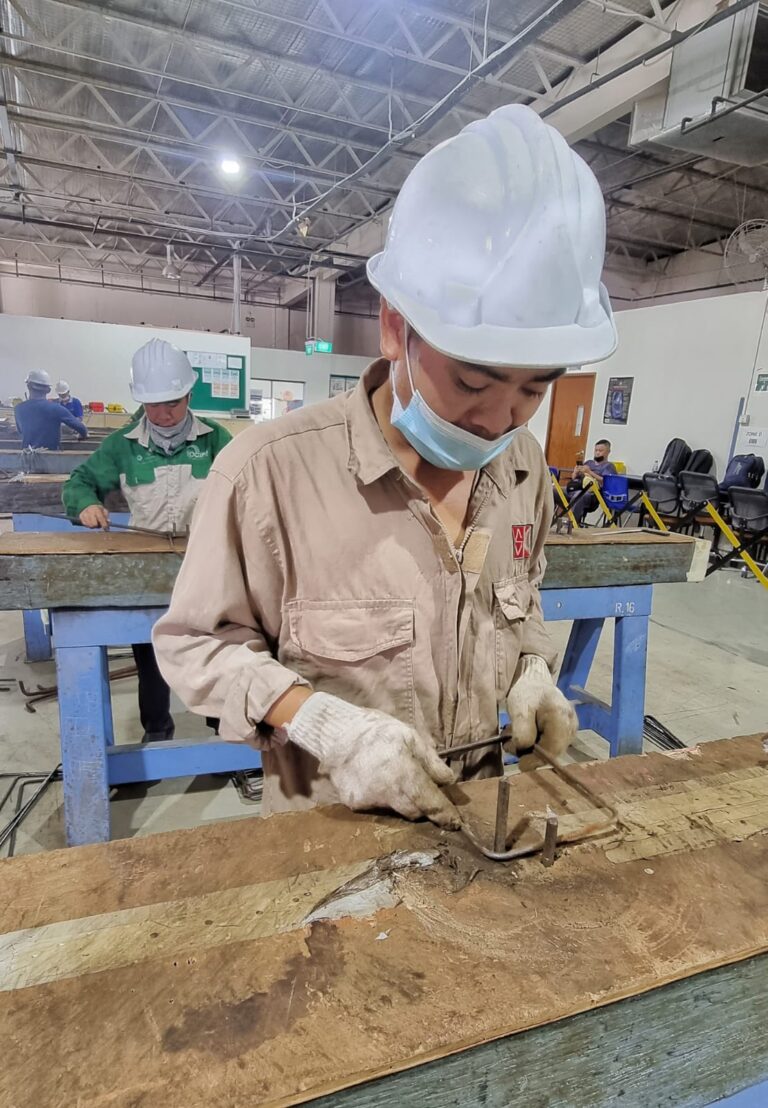 To employ migrant workers for the PCM sector, you will have to meet specific requirements for business activity, worker's source country or region, quota, and safety courses.
These requirements are additional and specific to the process sector. You should also refer to the general Work Permit conditions and requirements.
PCM Sector Worker Requirements in Singapore
Migrant workers employed for PCM works can only perform activities related to the construction, preventive and breakdown maintenance of plant equipment.
These workers are not allowed to be involved in the plant's operations (operating plant equipment, warehousing, packing, etc.) or peripheral services (grass cutting, cleaning of offices, roads, waste disposal, etc.).
PCM Sector Worker's Levy 2022
If you employ Work Permit holders, you will have to pay a monthly levy for each worker.
The foreign worker levy, commonly known as "levy", is a pricing mechanism to regulate the number of foreigners in Singapore.
You must pay a monthly levy for Work Permit holders. The levy liability will start from the day the Temporary Work Permit or Work Permit is issued, whichever is earlier. It ends when the permit is canceled or expires.
PCM Sector Levy rate and quota
The levy you pay generally depends on two factors:
– The worker's qualifications.
– The number of Work Permit or S Pass holders hired.
More information can be found on the Ministry Of Manpower (MOM) website.
Higher-skilled worker levy
Upgrading your worker to higher-skilled status will reduce your levy bill. The exact levy rate depends on your sector.
"You pay a lower levy for workers with higher-skilled status."
Criteria for higher-skilled worker levy by sector
The requirements your worker must meet to be on the higher-skilled levy rate are different for each sector:
Construction
Manufacturing
Marine shipyard
Process
Services
2023 Construction Worker Levy
Revised Levy Structure for Construction and Process Sectors from 1 Jan 2024
The new levy structure aims to support firms that adopt more productive technologies such as Design for Manufacturing & Assembly (DfMA), by lowering the levy rates for off-site construction. Higher-skilled (or "R1") workers will continue to be subject to lower levy rates to encourage firms to employ skilled and productive Work Permit holders (WPH).
The new levy rates will also encourage firms to diversify their WPH workforce by hiring workers from Malaysia, the People's Republic of China (PRC), and North Asian Sources (NAS), which will be subjected to lower levy rates than Non-Traditional Sources (NTS) workers.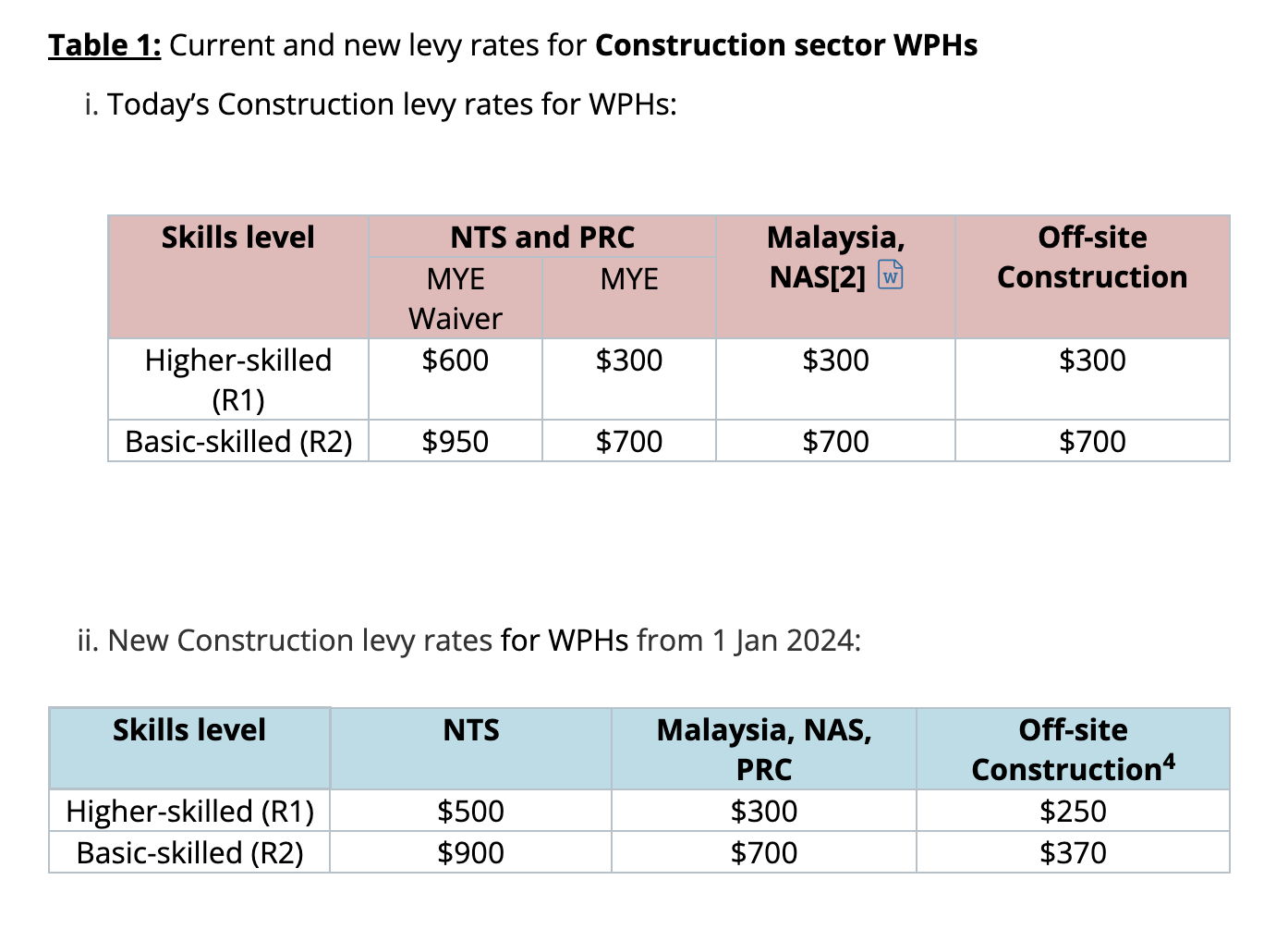 How To Lower Levy For Foreign Workers?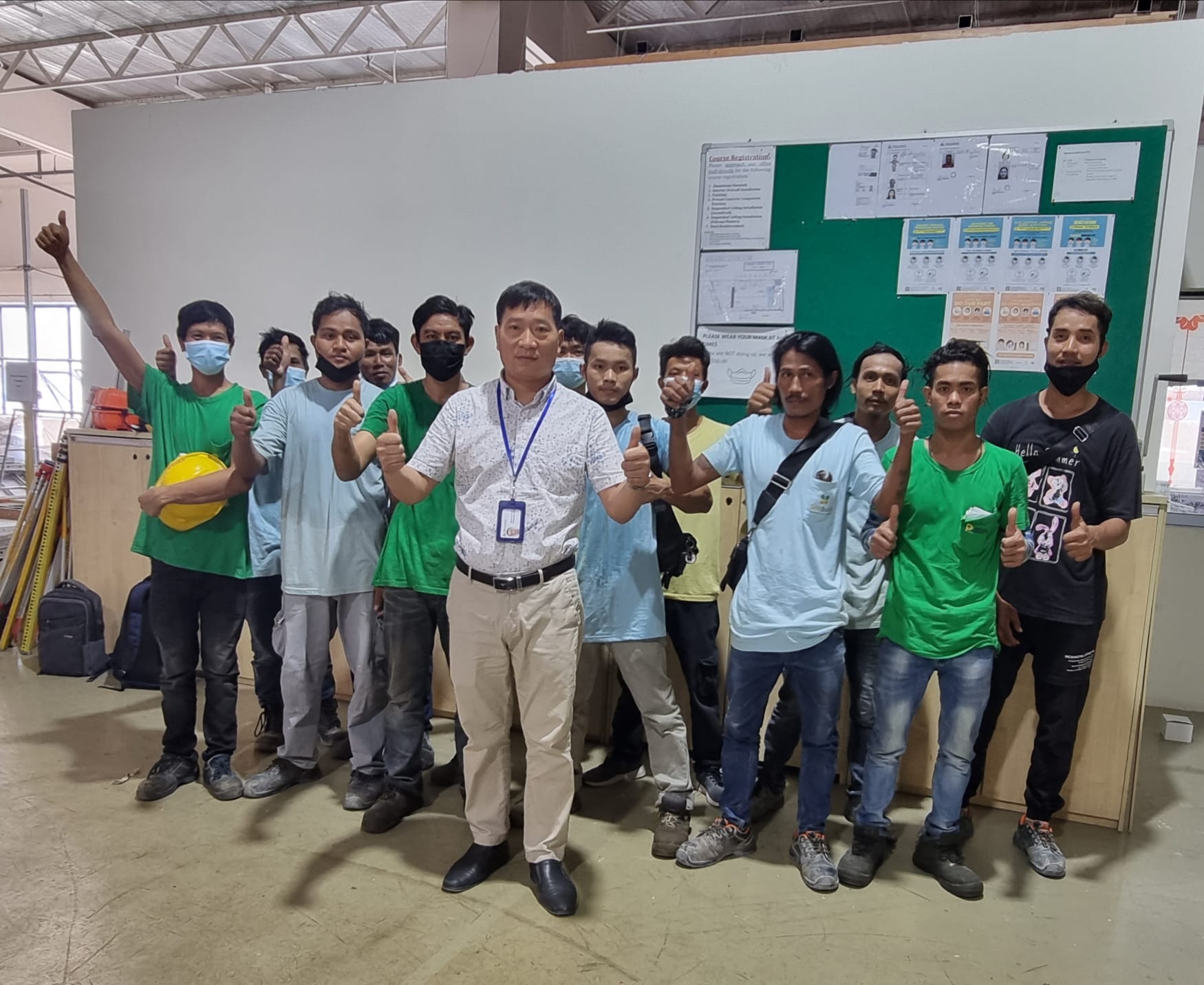 3 Ways To Lower Levy For Foreign Workers In Singapore
If you are a construction company based in Singapore and are hiring or planning to hire more foreign workers, here are 3 ways you can lower foreign worker levies and save up to $4,200 per worker per year in 2022!

Here Are 3 Ways You Can Lower Levy For Foreign Workers In 2022:
Upskill To An R1 Worker Using Coretrade
Upskill To An R1 Worker Using Multi Skill
Upskill To An R1 Worker Using SEC(K)
What Are BCA's CoreTrade Courses, and How To Apply
The Construction Registration of Tradesmen (CoreTrade) is a registration scheme administered by the Building and Construction Authority (BCA), for skilled and experienced construction personnel in the various key construction trades.