What is Direct R1?
Direct R1 Pathway allows workers with higher skills, who may not have acquired the requisite years of local construction experience, to upgrade to become "Higher Skilled" R1 construction workers.
This scheme allows quality workers, who may not have acquired the necessary years of local construction experience but are highly skilled, to upgrade to "Higher Skilled" R1 construction workers.
Employers will have greater flexibility in deploying higher skilled workers on-site, hence reducing downtime and improving their productivity.
Workers will need to meet the following criteria to qualify:
Minimum fixed monthly salary of $1,600 per month; and
Passed the SEC(K) test taken at a higher skill level.
Continuing education and training (CET) requirements
Direct R1 eligibility status is valid for 2 years.
To renew their registration, workers are required to attend Continuing Education and Training (CET) in their registered SEC(K) trade.

CET will be a half-day course covering the latest codes and regulations, good practices, and demonstration of new methods, materials, tools, and equipment relevant to the specific construction trades and/or areas of responsibility of the worker.


How to apply: Submit an application at a BCA Approved Training and Testing Centre such as Aesperon Construction.
Direct R1 Pathway Illustration by BCA Singapore
Since 2012, Aesperon Construction has been providing reliable, relevant, and cost-effective courses to upskill and empower your workforce. We work closely with our partners to ensure that our courses meet stringent criteria and requirements. As the corporate development arm of Aesperon Group, Aesperon Construction takes great pride in delivering training solutions that exceed industry standards.
We believe that our Coretrade courses not only elevate the skillsets of individual tradesmen but also raise the standards of the industry.
To apply to become an R1 worker, simply contact us here.
Benefits of becoming an R1 worker
According to the Ministry Of Manpower (MOM) Singapore, Higher-Skilled workers such as R1 workers in the construction sector, can enjoy a $1,400 reduction in levies, per worker.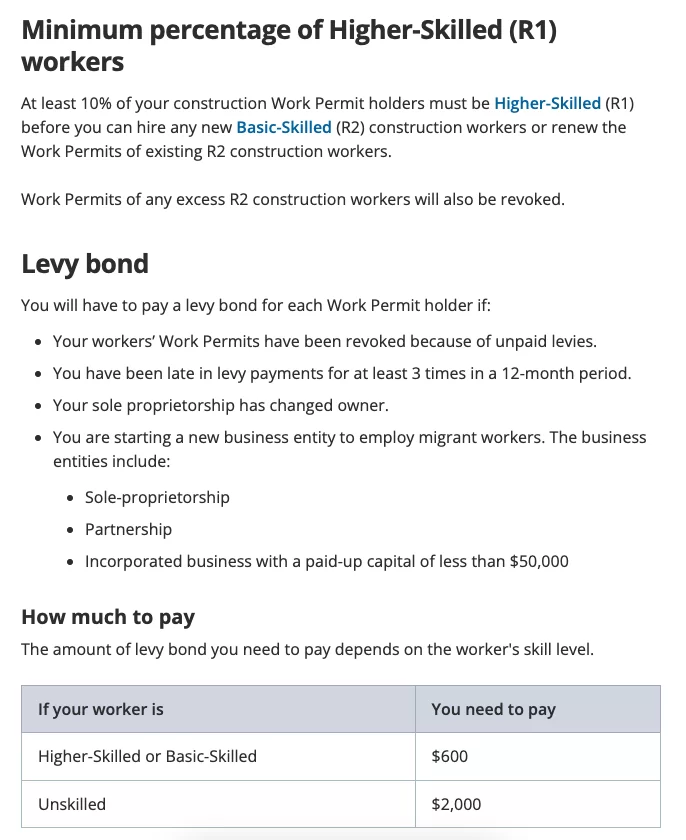 If you are a construction company based in Singapore and are hiring or planning to hire more foreign workers, here are 3 ways you can lower foreign worker levies and save up to $4,200 per worker per year in 2022!


Here Are 3 Ways You Can Lower Foreign Worker Levies In Singapore:
Upskill To An R1 Worker Using Coretrade
Upskill To An R1 Worker Using Multi Skill
Upskill To An R1 Worker Using SEC(K)
Here's what you need to know about the levy rates according to the Ministry of Manpower (MOM) in Singapore.
To employ migrant workers for the construction sector, you will have to meet specific requirements for workers' source country or region, quota, and levy.
These requirements are additional and specific to the construction sector. You should also refer to the general Work Permit conditions and requirements.
For more information on foreign worker levies in Singapore, please read this article.
Why Aesperon Construction

We employ a wide range of training methods to provide courses that span across industries and levels. We collaborate with local and international clients to develop a high-performing and quality syllabus to meet your business requirements, and our courses are designed to equip learners with relevant knowledge to excel in their areas of expertise.
"Aesperon is a WSQ Approved Training Organisation and we work with BCA Approved Partners. Our multiple CoreTrade courses have been steadily maintained at a 95% passing rate."

Our trainers are selected from a rigorous process to take trainees through a valuable and meaningful learning journey. We keep our ears close to the ground and are constantly exploring new courses and frameworks that can be used to increase the skill set of our workforce.
Other articles that might interest you in becoming an R1 worker:
Aesperon Contruction's BCA Approved Courses:
Since 2009, Aesperon Construction has helped many companies reduce levies and upskill the workforce by providing government-required training and skills assessments to over 30,000 competent and experienced workers in the construction sector.
We are the top training academy for Construction Industry in Singapore and boast the top passing marks in Singapore. We have a >95% Passing rate for all of our Coretrade Courses.
You are in good hands with Aesperon Construction. Check out our most popular BCA Approved courses here.